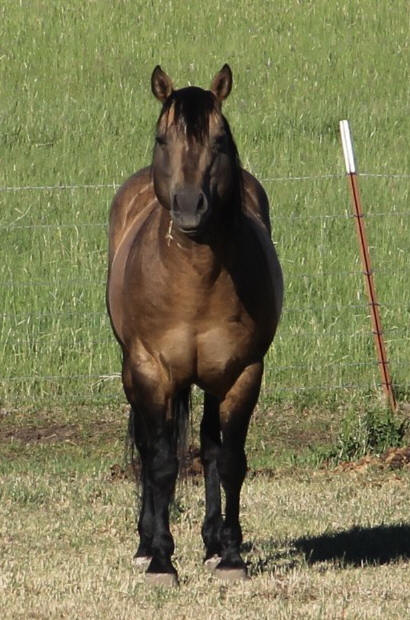 This stallion is a real eye catcher. "Cisco" is a phenomenally bred stallion with the looks and good sense to go along with it. Cisco is a very well balanced horse, with great moves. Watches all his surroundings/cattle and is quick to act. He has been a very easy stallion to work with and never argues when presented with something new.
Cisco is by AQHA World Finalist, Buckaroo Bueno Chex who is an AQHA Performance Champion with over 268.5 points and an AQHA Superhorse World Contender ridden by Todd Bergen. His sire carries Supremes in Reining, Heading and Heeling but sadly now deceased. His dam, Freckles Honey Girl is an own daughter of Freckles Playboy and an NCHA money earner. She also was trained and worked as a rope horse in Heading and Heeling as well as ranch branding and gathering.
Cisco's foals are excelling in many areas. They are quick and cowy, gentle and willing to get to work, sure footed and smart. Some have gone on to be cutters, reiners, ropers and working cow horses. His 2007 colt is our ranch's main rope and cow horse.
Producer of working cow horses, ropers, reiners and cutters.
Son of Buckaroo Bueno Chex (deceased), AQHA World Contender, Heading, Heeling and Reining, Multiple ROM's.
Out of Freckles Honey Girl, own daughter of Freckles Playboy.
2017 Breeding Fee $650 LFG

Includes $250 Booking Fee (first shipment of semen included)
First shipment of semen included in breeding fee. Additional shipments $150 plus freight charges.
Special consideration to show homes, early booking and multiple mare discounts.
Mare care $10/dry, $12/wet per day. Clean, safe mare facilities available.
Quality Shipped Semen available, counted and processed to the highest standards every time.
DNA 5 Panel tested all Negative